Hello Dear Reader ! I played along at " Mach was draus" , where you get a little materialmail and you create something out of it. And today you can see it on Anja`s blog
HERE
. It is fun to see, what everyone made out of the limited things, we got :). This time we got the new version, where you get material for the next three month in three separate "bags" and extra material as paper and envelopes .
There was this triangled bag in the material, and golden paper and the golden bow and the Wild Wasabi Ribbon. First I only made the tag with the stampsets Everything Eleanore, En Francaise and Work Of Art. I used the colours Delightful Dijon, WIld Wasabi and Rose Red on Very Vanilla cardstock, because I liked it on the golden paper. When I was done, I thought I would like a card matching the gift. I made the card out of the leftovers and from the extra cardstock, which was in the Mach Was Draus Box. I used the same stampsets and colours.
And now I have a set for the next birthday to come ! All Stampin`Up.
Hallo Liebe Leser ! Ich habe bei " Mach was draus" mitgemacht, wo man eine kleine Materialsammlung per Post bekommt, und man etwas daraus bastelt. Und heute könnt Ihr alle Resultate auf Anjas Blog HIER . Es ist spannend zu sehen, was die anderen so aus den limitierten Material gemacht haben, das wir bekommen haben :). Dieses Mal haben wir die neue Version gemacht, wo wir das Material für die nächsten 3 Monate in drei Tüten bekommen haben und zusätzliches Material wie Papier und Briefumschläge. Es war dieses Mal diese dreieckige Tüte drin und goldenes Papier und Wasabigrünes Band und der Schleifenclip. Erst habe ich den Geschenkeanhänger gemacht. Ich habe dafür die Stempelsets Everything Eleanore, En Francaise und Work Of Art verwendet. Ich habe hierfür die Farben Ockerbraun, Wasabigrün und Rosenrot auf Vanille gestempelt und gewischt. Es passte gut zu dem goldenen Papier, fand ich. Als ich fertig war, fehlte mir noch eine Karte dazu und so habe ich das Extra Cardstock verwendet und die Reste aus der Materialtüte plus die oben genannten Stempelsets und Farben - und jetzt habe ich ein Set für den nächsten Geburtstag ! Alles von Stampin `Up.
That was what we got:/ Und das hier haben wir bekommen: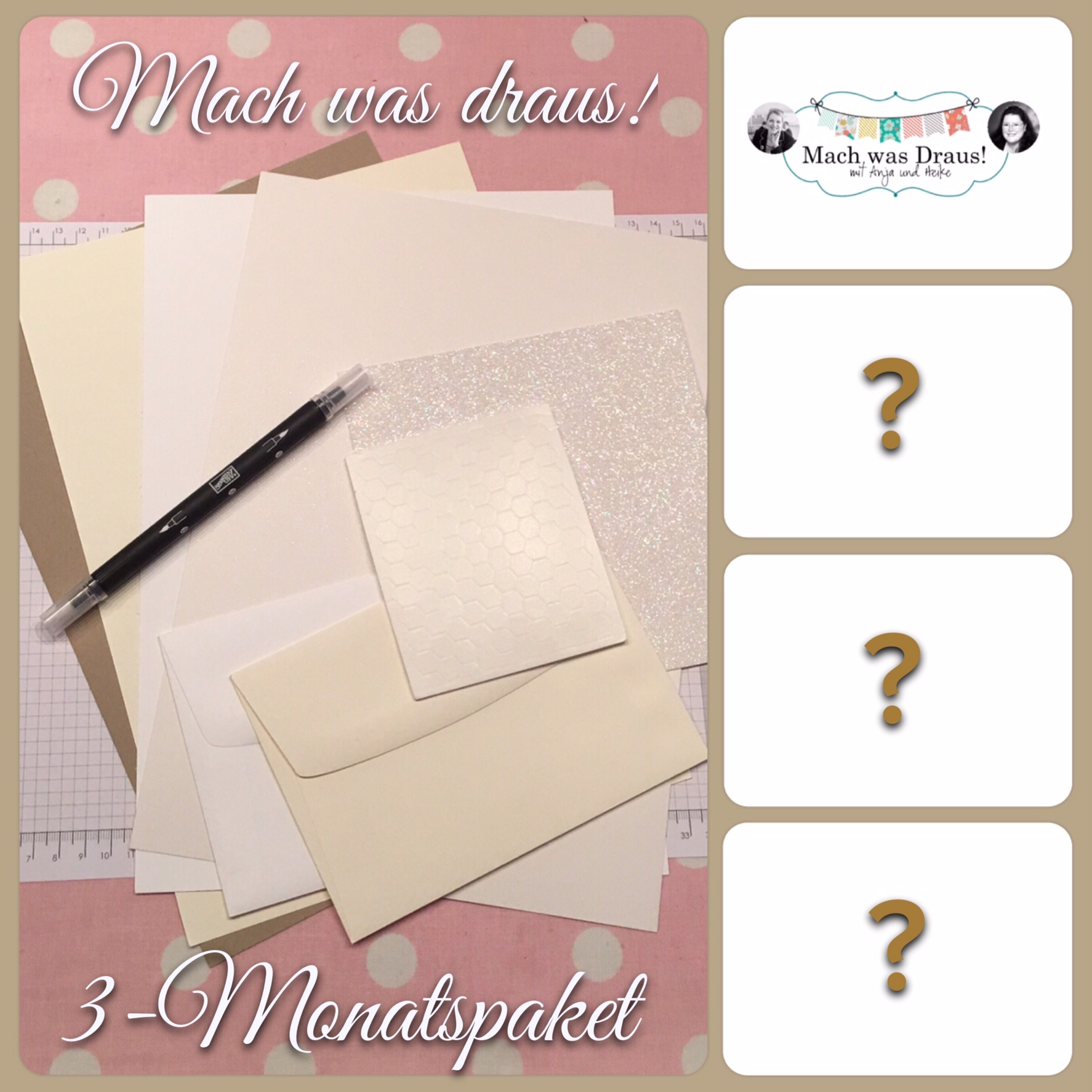 And I want to play along here/ Und hier möchte ich es auch noch zeigen:
http://www.creadienstag.de/2016/03/217.html
Greetings/ LG