Hello Dear Reader ! Gold , gold, gold ... I didn`t have anything golden . But then I saw the "Goldshare" on the SU-demonstrator Fanny`s blog ( stampinwithfanny) and thought: YES ! For only 20 € I can finally get a bit golden paper and embellisment , and it is perfect for my christmascards . Look:
I used the dsp from the share and the everything out of gold is from the share. The sketch is from Pals Paper Arts and the colours are from In(k)spire Me. The trees are from the set Lovely As A Tree and the sentiment is from the set Cozy Christmas. All STampin `Up.
Hallo Liebe Leser ! Gold, Gold, Gold... Ich hatte nix goldenes. Aber dann habe ich das "Gold -Share" auf Stampin with Fanny`s blog entdeckt und dachte: Ja! Für nur 20€ kann ich endlich etwas goldenes Dsp und Embellisment bekommen und es ist die perfekte Zeit dafür, denn jetzt ist Weihnachtskartenbastelzeit. Schau mal:
Ich habe gleich das Dsp und Dekoration aus dem Share hier verwendet. Der Sketch ist von Pals Paper Arts und die Farben sind von In(k)spire Me. Die Tannenbäume sind aus dem Set Lovely As A Tree und der Spruch aus dem Set Cozy Christmas. Alles von Stampin`Up.
Wow, ich bin verliebt...
And here are the challenges:/ Und hier sind die Challenges: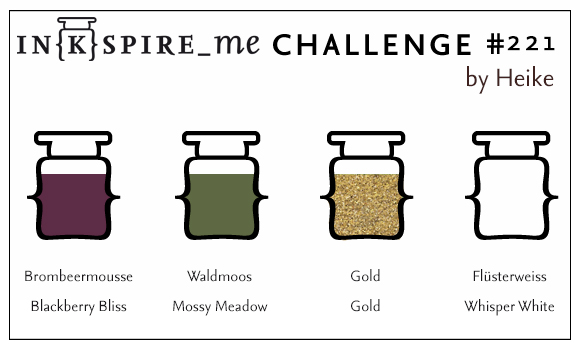 Und hier ist das Gold Share (sie hat auch einen SILBER Share)
Greetings/LG