Hello Dear Reader ! Finally we have a bit of rain - and thunder . It is much hotter than we are used to, so everyone longed for the rain to come.
I made a card with sponges and I put colour on an embossingfolder with writing on it and stamped with it ( I do not have such a stamp and SU does not sell such a stamp right now) . I love purple so I had to play along at the In(k)spire Me this week - and of course at Match The Sketch: I won the last challenge (Top 3) !!! I´m so so happy.
I used the colours as given in the challenge and I used the stampset Work Of Art for the sentiment. All Stampin`Up.
Hallo Liebe Leser ! Endlich haben wir etwas Regen - und Gewitter. Es ist im Moment viel wärmer, als wir es gewohnt sind hier, deshalb hat sich jeder auf den Regen gefreut.
Ich habe eine Karte unter Verwendung von Schwämmen und einer Prägefolie mit Farbe drauf gewerkelt, die ich als Stempel verwendet habe ( SU hat im Moment nicht so einen Stempel mit Schönschrift drauf) . Ich liebe Lila , also war klar, dass ich bei In(k)spire Me mitspielen wollte - und natürlich bei Match The Sketch , denn: Ich habe gewonnen bei der letzten Challenge ( Top 3) !!! Ich habe mich riesig gefreut. Ich habe die erforderlichen Farben verwendet und ich habe das Stempelset Work Of Art für den Spruch verwendet. Alles von Stampin `Up.
And here are the challenges/ Und hier sind die CHallenges: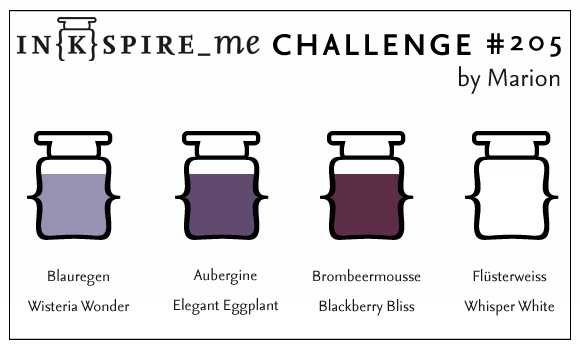 Greetings/ LG