Hello Dear Reader !
Computer is back and it was cheeper than I thought - I still have money for some christmasgifts ;).
I want to take part in Match The Sketch challenge, who had a sketch for me, and In(k)spire Me, who`s theme was: Frosty christmas. I made the designerpaper myself with the Many Merry Stars , and some of the stars I cut out with scissors. The colours are Pool Party, Pear Pizzaz, Lost Lagoon and WHisper White. Embossingfolder with stars and a bit bling and there is my card - cool ;).
Hallo Liebe Leser !
Der Computer ist wieder in Ordnung und es war günstiger als gedacht - ich habe noch Geld übrig für Weihnachtsgeschenke ;).
Ich möchte bei Match The Sketch Challenge mitmachen, die mir den Sketch geliefert haben, und In(k)spire Me, die das Thema : Frostige Weihnachten geliefert haben. Das Designerpapier habe ich mit dem Stempelset Many Merry Stars selber gemacht, und ein paar Sterne habe ich mit der Schere ausgeschnitten. Die Farben sind Aquamarin, Farngrün, Lagunenblau und Flüsterweiss. Die Prägefolie mit den Sternen und ein bischen Bling und hier ist die Karte - cool :).
And here are the challenges/ Und hier sind die Challenges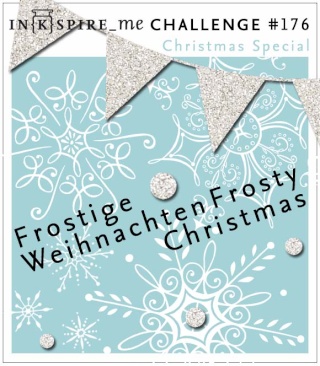 Greetings/ LG